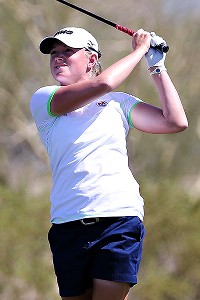 Most of the time on this blog we talk about the last event and happenings on the PGA Tour, but it's time to give the ladies some love. In particular, one lady who is having an incredible start to the 2013 LPGA Season, becoming the new No.1 ranked player in the world.
American Stacy Lewis was the 2012 Rolex Player of the Year on the LPGA, and came into 2013 with some momentum.
After a win in Singapore a couple of week ago, Lewis followed that up with a win in Arizona for the second-straight event.
The victory vaulted her from No.3 to No.1, dethroning Yani Tseng's reign at the top of the Rolex Rankings. Tseng was No.1 in the world for more than two years, culminating in 109 weeks at the top. Continue reading →