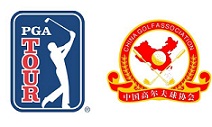 The game of golf is becoming more international every year. The biggest growth has been seen on the continent of Asia. That has never been more evident than with the PGA Tour alongside the China Golf Association announcing the new PGA Tour China.
This was made public on Sunday following the conclusion of the WGC-HSBC Champions tournament in Shanghai as a FedEx Cup playoff event won by Dustin Johnson. There have been several PGA Tour events and other professional golf events contested in China in recent years, spurring the growth of golf in the area.
The PGA Tour China will not only be open to those living in China, but all over the world as well. This will give players from many different countries the opportunity to play on a professional tour and work their way up through the ladder.
The schedule for the first season of the new Tour will be announced in the future, as both the PGA Tour and the China Golf Association will work towards establishing a series of tournaments for the upcoming year.
The PGA Tour is no stranger to China even outside of some of the tournaments that they put on. There is the PGA Tour (Beijing) which is an affiliate of the PGA Tour in China. There are also 40 PGA Tour stores located throughout the country.
The PGA Tour only expects this to influence the game in China on a positive note, and further the development of players coming up from that area. There are several players in Asia that have made it up to the biggest stage, mostly from Japan and Korea. But with China now in on the action with their own Tour, that is expected to have a boom on the Chinese players coming up through the professional ranks and on into the world stage.
The partnership between the PGA Tour and the China Golf Association will continue through the development of the schedule, with the CGA taking the lead utilizing some of the resources provided to them by the PGA Tour.