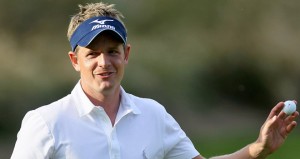 There are the media lightning rods that are Tiger Woods and Rory McIlroy.
And then there is the, you know, actual no. 1 player in the world, Luke Donald, who despite a torrid pace over the last 14 months has garnered little attention leading up to The Masters. While most of the spotlight has been cast on the pair of superstars who are favored to win the 2012 Masters, Donald seems like a pretty good value bet at 16/1, according to Bovada, behind even Phil Mickelson.
"It's a little naive to say that they are the only ones with a chance to win around here," he told reporters.
He dispelled the notion that he struggles at Augusta just last year when he finished a quiet fourth, ahead of McElroy. It proved that he has the wherewithall to stand the test of Augusta and finish with his head above water. Since then, Donald has been on a great stretch this year in which he's won five times in 14 months. His win at — actually helped him rip the tour's top spot from McElroy.
"I'm still a decent number in the bookies, aren't I?" he joked. "I don't know if I've been written off yet."
Surely, he hasn't been written off yet, but on every newstand, he finds images of the youngster from Northern Ireland paired with Woods, who recently won his first tournament since 2009. That kind of media exposure has kept Donald's ascent relatively quiet.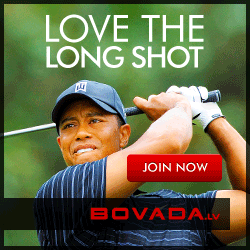 "Tiger is always the guy who pushes the needle most, and obviously Rory gets a lot of attention now. but for me, that's probably a good thing. I can just get on with things."
Although he doesn't have the track record like Mickelson of continuously finishing somewhere high on the leaderboard, it's hard to imagine Donald won't have a really nice weekend regardless where he finishes. The likely result, according to Bovada's 2012 Masters Betting Odds, is somewhere inside the top-10 with a +110 payout if he does.
If, however, he slips like so many favorites have done in the past, Bovada lists a +250 payout if he finishes between 11th and 22nd. For anything worse, bettors will reap a +200 reward.