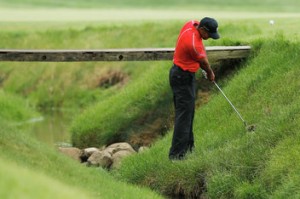 Golf is a game that gets the best of even the greatest players in the world. And in the case of the 2013 Memorial Tournament this past week, arguably the greatest golfer ever. Coming into the event as a winner of four of his last seven PGA Tour stroke play events, and a five-time champion at the tournament, Tiger Woods looked like he was virtually unstoppable.
Insert Muirfield.
Jack Nicklaus didn't have the seemingly routine meeting at the 18th green on Sunday that he has had five times prior. That's because Woods shot a 79 in the third round on Saturday, that included a front-nine 44, the highest of his professional career.
And the timing of this 65th-place finish on a course he has dominated comes just two weeks before the 2013 U.S. Open from Merion. Five days ago, we were wondering if Woods would win both the Memorial Tournament, and the U.S. Open. Now, we are wondering if the Memorial Tournament is foreshadowing, or a blip in an otherwise fantastic start to 2013.
Only time will tell, but one thing's for sure, and that is that Woods will be putting in some serious work between now and the U.S. Open, which starts on Thursday, June 13th. By the time that tournament comes around, it will be a full five years since Woods last won a Major championship, which was the 2008 U.S. open at Torrey Pines.
For a player who judges himself on Major championship performances, it seems crazy that it has been that long since we've seen a Woods' victory in one the four Majors.
Had Woods not played so poorly at Memorial, he would have been a huge favorite, with relatively little talk about the state of his game. But it's funny how one tournament, one round, or just one nine-hole round can change that. Woods finished 20 shots behind the eventual winner Matt Kuchar this past week.
Woods 119 putts was 19 more than he had in his win at the WGC Cadillac Championship, and 17 more than his win at the Arnold Palmer Invitational. There is certainly something to be said for his putting. He didn't hit it in the hazard once last week, and he actually hit a normal amount of fairways. In total, something was just off.
But one of the nice things about golf is that every tournament is a new start. Don't be surprised to see Woods right back in his early season form at Merion. He continues to be the big favorite on 2013 U.S. Open odds.