The 2012 British Open will be held at Royal Lytham & St Annes Golf Club in Lancashire beginning on July 19th.
And while we still have the U.S Open in June for the second Major championship of the season between then and now, we are going to take a brief look at the tournament and some of the favorites to win the Open Championship.
For those of you who might not remember, it was a surprise victory by Darren Clarke who broke through with his first Major Championship last season at the 2011 British Open. Clarke will be bringing the Claret Jug to Royal Lytham Ready to defend.
So who are the top contenders this year?
Pretty much your usual suspects.
Despite a poor showing at the Masters earlier this month, Tiger Woods heads the odds to win the 2012 British Open on lines available at Bovada Sportsbook. Woods is going off at 6/1 to win his fourth Open Championship, and first since 2006.
Right behind Woods is Rory McIlroy, who just overtook the No.1 ranking the world for the second time this year. No offense to Luke Donald, but McIlroy is definitely more fun to watch and has that dynamic personality you look for in a super star. But at British Open title would add that much more to McIlroy's ever-growing game, as he is set at 8/1 behind Woods.
It's still quite unbelievable to me that Lee Westwood has not won a Major championship. It seems like every major in the last five years we have seen his name near the top of leaderboard or in contention to win. But somehow, he comes up just short. The guy is just too good not to have won one by now, and not to win one by the time he hangs it up. At 14/1, oddsmakers think he has a good shot.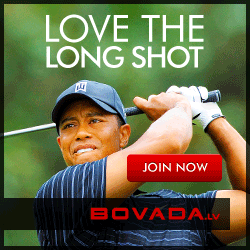 Donald, like Westwood, has also yet to win a Major Championship, but has also come close. The British Open in 2012 might be the venue for him, as Donald definitely has the game to win on a links golf course, leading the European Tour order of Merit a year ago. Donald is also set at 14/1.
Rounding out the top-five favorites is Phil Mickelson, who has played quite erratic in the British Open throughout the course of his career. Mickelson still has the U.S Open to get over after his collapse at the Masters during the final round. Mickelson is set at 18/1.